How to Get Rid of Cardboard Boxes in the UK?
Our lives are constantly surrounded by cardboard boxes. They help us move houses, store items, and transport and receive goods. So after we are done with those cardboard boxes, what do we do with them? This thorough guide will cover all the options for effectively handling and getting rid of cardboard boxes in the UK. We will go over everything you need to know to prevent your cardboard from unnecessarily ending up in landfills, from recycling them to inventive ways of repurposing them.
How to Get Rid of Cardboard Boxes in the UK?
By giving them away
Once you've settled into your new home and organized your possessions, you might discover an excess of cardboard boxes. However, have no worries! There are numerous ways to repurpose these boxes. For instance, consider offering them to friends or neighbors who could benefit from sturdy containers. You may be surprised by how many people can utilize cardboard boxes for moving or even for artistic projects.
In today's technological era, relinquishing your cardboard boxes has become more convenient with the help of social media and online platforms. Just share a post offering your boxes for free, and interested parties will quickly reach out to you through digital means. Popular websites such as Gumtree, Freecycle, and Freegle have gained traction in the UK for facilitating connections between individuals gifting items and those seeking them.
Remember your coworkers at the office! If you work in a big office or company, there may be someone who could use extra cardboard boxes for their own moving or storage purposes.
Additionally, we must acknowledge the significant difference that charities can achieve through receiving donated cardboard boxes. Charitable groups dedicated to assisting individuals with relocation or supplying necessary items would greatly value sturdy containers like the ones you have. If none of these choices proves fruitful, local charity stores are always grateful for any type of donation.
By selling them
Selling pre-owned items can involve some uncertainty, especially with regard to cardboard boxes. While they may not seem like a profitable item, there are numerous options available for selling your used boxes.
Consider selling the extra boxes to the original store where they were bought. Certain stores may offer returns for unopened boxes, allowing you to recoup some of your expenses if you overbought.
eBay is also a common choice for selling used items. It provides a platform for connecting with buyers worldwide. Remember to specify your location to avoid any potential logistical issues for interested parties.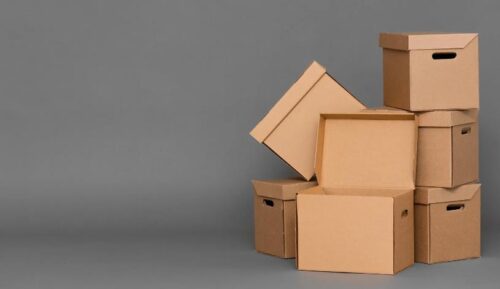 For those located in the UK, eBid presents itself as a fantastic alternative to eBay. With its user-friendly interface, you can effortlessly upload your items and present them to potential buyers all over the country.
While CQOUT is a versatile auction website, bidding on cardboard boxes may not incite as much enthusiasm from potential buyers. Nevertheless, it is still worthwhile to give it a try.
Preloved is a specialized auction website catering to UK-based users, offering them the chance to find gently used items such as cardboard boxes.
Aside from free items, Gumtree offers the opportunity to sell a wide range of first or second-hand items. Don't forget to also consider listing your used cardboard boxes on this platform!
Keep in mind that, although selling used cardboard boxes may not result in substantial profits, these platforms offer chances to connect with individuals who recognize the worth of items that others may view as disposable.
By recycling them
If you are unable to sell or donate your cardboard boxes, and disposing of them in the garbage goes against your beliefs, choosing to recycle them is a responsible decision. There are multiple methods available for recycling your boxes.
A possible solution is to take them to a recycling facility, especially if it's conveniently located near your home or along your everyday route. This way, you can be sure that your boxes will be effectively repurposed into fresh paper and cardboard items.
By choosing to recycle cardboard, we can produce new materials while reducing the amount of garbage we send to the landfill. To dispose of cardboard boxes properly in the UK, always remember to practice environmentally friendly habits and choose to recycle.
By upcycling them
Use your imagination to upcycle cardboard boxes and give them a new purpose. Making fashionable storage solutions out of them is one method for doing this. Why not save some money and get creative rather than spending money on expensive options?
Begin by choosing the size of box you want and adjusting it to your desired depth if needed. After that, the possibilities are endless! Dress them up with pretty fabrics or repurpose old clothes that are no longer in use. You can also add a pop of color with paints or opt for a rustic look with twine accents. For handles, simply cut out holes where necessary or use twine or old belts to make loops.
An enjoyable way to upcycle is by making marquee letters. As you settle into your new home, it's customary to host a housewarming gathering. Instead of the typical decorations, try incorporating eye-catching marquee letters.
Craft them out of cardboard and embellish them with different hues and twinkling fairy lights for an extra special touch. These letter designs not only elevate any event, but they also infuse character and charm into bare walls in your living space or kids' room.
When arranging your drawers, try using cardboard boxes as organizers. Varying box sizes can be utilized to fill the drawers, and you can also cut extra cardboard to make separators within each section. This will ensure that when you open your drawers, everything is neatly organized and visible at a glance.
Don't overlook our little ones who adore imaginative playtime journeys! Those large moving boxes can be turned into incredible forts for children. Set your creativity free and design a magical stronghold that surpasses their wildest fantasies – it will quickly become their preferred playground for weeks to come!