Rubbish Removal in Catford SE6
Is your property full of stuff you don't need, rarely use and want removed? If the answer is yes you can rely on our company to conduct the waste collection you need at a price you won't find anywhere else. Get in touch with our operators over the phone on 0208 0999 767 or 07397 009 099 to specify the type of trash you have, its volume and your preferences. Our men will load and dispose of your unwanted items and bags with leftovers dealing with them the way it is required by the authorities. We keep the environment clean – our teams either send for reusing or recycle the junk.
Efficient Trash Clearance Services
Our services are flexible and implemented entirely according to regulations and the customers' needs. We can do the rubbish removal work during any of the weekdays and weekends. Our mobile teams can collect all kinds of junk: household leftovers, building materials, garden cuttings and litter, office papers, old IT and other electric equipment and more. If you are still wondering check our testimonial page. Snappy Rubbish Removals is licensed to do this work and our registration number is CBDU155119. We can also offer you public liability insurance for peace of mind up to 2 million pounds.
Catford area info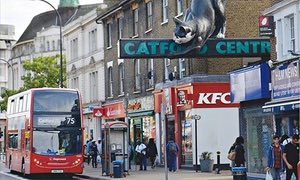 Catford's rich history has fed into the vibrant diverse town centre that it is today. The area is bordered by Downham, Forest Hill, Lewisham and Lee. Catford town centre is a busy shopping centre, with indoor and outdoor markets, selling everything from fruit and vegetables to clothing and plants. Catford is the civic heart of Lewisham borough and so is frequented by many visitors. The Broadway theatre can be found in the heart of the town centre, an important centre for cultural entertainment in south east London, pulling in international and local talent. There is a wide choice of restaurants, cafes and bars, with several featured in Time Out. The town centre is also close to Mountsfield and Ladywell parks and the Ladywell running track.