What Can You Do With an Old Fax Machine?
What is a Fax Machine?
Fax machines are devices that allow you to send and receive documents electronically over the phone network. They do this by scanning the printed documents and sending them as electronic signals through the phone lines. This process is called "transmission" and can happen between two fax machines, a fax machine and a computer, or an online fax service.
These days, lots of multifunction machines come with fax capabilities. They can do much more than just faxing; you can even send and receive data over email or the Internet! Fax machines are used all the time to send documents between different places.
People mostly use fax machines for business, but some still use them for personal reasons. Maybe they like the old-school vibe!
What Can You Do With an Old Fax Machine?
E-waste Collection Centres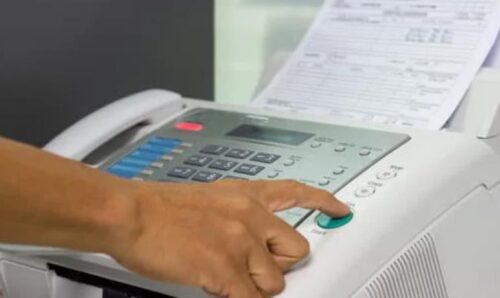 If you have old fax machines you want to dispose of, you can visit an e-waste collection centre. Depending on where you live, there might be a centre nearby. To find out about e-waste drop-off locations and operating hours, you can either visit your city or county's website or inquire at city hall. You can recycle or get rid of outdated fax machines and toner cartridges at waste recycling centres, which can be an easy way to address your problem and help the environment at the same time.
Sponsored Local Activities
Many cities and counties organize events that last for a day or a weekend dedicated to collecting electronic waste. This makes it easier for residents and business owners to dispose of old electronic items. You can drop off your fax machines at the designated location. Although not all cities have a program or a specific day for recycling electronics, if your city does, make sure to take note of it so that you can get rid of any old gadgets responsibly.
Give Them to Manufacturers
It is advisable to ascertain whether the fax machine manufacturer accepts your specific device before reaching out to them. This will enable you to determine if your device is eligible for their take-back program. It is important to note that certain firms may only accept specific devices as part of their take-back initiatives. Therefore, it is recommended that you clarify with the manufacturer beforehand.
Make a Donation to a Nonprofit
Old fax machines may be recycled, but supporting charitable organisations is always a good idea. Many groups, including schools, recreation centres, community organizations, thrift stores, charities, and nonprofits, will be pleased to accept and put the fax machines to good use if they are still functional. In the interim, you'll establish a solid reputation for your brand among the locals.
Find a Program That Promotes Electronic Recycling
It is possible to donate old fax machines to organizations that provide electronics outreach to underprivileged communities. For instance, the World Computer Exchange offers electronic items such as personal computers (PCs) and their accompanying peripherals, which impoverished nations can purchase. The organization's website includes a list of the required items.
Junk Shops and Repair Shops
If you have an old fax machine that doesn't work anymore, you can still try to get some money back by selling it to certain places. It might take a while to find those places, depending on where you live, but you can start by looking for places that take the kind and brand of printer you have. Once you find some, give them a call and see if they want to buy it.
Ways to Reduce Waste From Fax Machine
Transmit an Electronic Fax
Instead of buying a fax machine, consider using an online fax service to send and receive faxes over the Internet. This can save you money on equipment and maintenance costs while also providing the convenience of being able to send and receive faxes from anywhere with an internet connection.
Utilise the Paper on Both Sides
To make the most of your resources and reduce waste, you can utilize used paper by placing it in a neat pile next to your fax machine. This way, you can use it to send faxes instead of using fresh paper every time. By doing so, you not only save money but also contribute to the environment by reducing paper waste. It's a simple and practical solution that can make a significant impact.
Purchase Used One
There are two options available for those looking to purchase a fax machine while also being mindful of the environment. The first option is to buy a high-quality and long-lasting fax machine. This option may cost more initially but will save money in the long run as it will last much longer than a lower-quality model. Additionally, investing in a high-quality fax machine is better for the environment, as it will not need to be replaced as quickly, reducing waste.
The second option is to purchase a used fax machine in good condition. This option is also eco-friendly, as it reduces the number of fax machines that end up in landfills. However, it is important to be cautious when buying used electronics to ensure that they are in good working condition.
Ultimately, both options are more environmentally friendly than buying a brand new, lower-quality fax machine that will need to be replaced sooner.