Cheap office rubbish removal in London
Snappy Rubbish Removals  is licensed to remove office rubbish and to provide commercial collection services in London. Our waste disposal registration number is CBDU155119. We charge according to type and amount of junk we are booked to remove. We work with independent companies through to national chains. These include: offices, shopping centres, pubs & restaurants, hotels and holiday lets. We provide the best solution to you with the best rate available in London and up to 40 miles outside M25 border. Our prices start from just £25 and we are flexible enough to provide commercial rubbish removal service in two hours, after the booking!
When it comes to office or commercial waste clearance, 1000's of satisfied customers from City of London, Canary Wharf, Mayfair, Westminster, Pimlico, West End and Kensington can guarantee the work we do. We work with councils, businesses, schools, and more. We offer to our regular customers special offers and discounts. We also do computer recycling, electronic recycling or e-waste recycling. This is the disassembly and separation of components and raw materials of waste electronics. Although the procedures of re-use, donation and repair are not strictly recycling, they are other common sustainable ways to dispose of IT waste. We also can clear almost any type of waste including hazardous and specialist waste streams. 
You may be clearing your offices for lots of reasons – upsizing or downsizing, refurbishing or relocating. Here is an example of what one office could become, if the rubbish removal has not been done on time: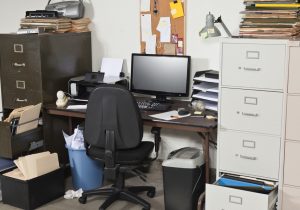 Tailored office waste collections:
We will always plan our removal of your office rubbish to occur at an agreeable time for you. To minimise disruption many of our clients request that we visit after working hours when personnel and clients are not around. Subject to agreement, we can collect selected reusable items, free of charge, or provide a full clearance service for a highly competitive rate. Once our quote has been accepted, our team will arrive at your office with all the necessary tools and eliminate the office junk with as little disruption to your work as possible. Here is some rubbish, ready to be taken away:
Your perfect office trash clearance service is just on call away!
You may be clearing your offices for lots of reasons – upsizing or downsizing, refurbishing or relocating. We accept every kind of office materials including desks, tables, cabinets, chairs, shelving, pedestal drawers, folders and stationary, noticeboards, partitions, computers, monitors, all kind of electrical devices. Here is an example of what one office could become, if the rubbish removal has not been done on time:
We are also proud to guarantee :
Nothing we collect is sent to landfill

We will collect anything that can be practically recycled

We invest in the tools and people-power needed to get your recycling rate up
For your convenience you can talk to our polite and knowledgeable representatives 24/7. Our friendly customer support assistants can book your junk removal service in less than five minutes. They will answer all your questions and provide a free, no-obligation price quote. You can contact us via our quick online form as well on our booking page or call us now: 02080999767