Cheap rubbish removal in Dagenham RM8 and RM9
Private Trash Removal
You wonder how to get rid of all the junk in and around your home, office or the whole building? Our  company specialises in effective waste clearance –  Snappy Rubbish Removals is at your services anytime in London. We have a number of satisfied customers and work hard to meet the needs of each one.
Affordable Office Clearance
You don't have to hire expensive skips to get your commercial property in Dagenham RM9 cleaned and cleared of unwanted junk when you can use the services of our trained and experienced teams. They work fast and clean and will remove all the waste from your place. Call us for a free estimate of your rubbish disposal needs and our operators will be at the expected place and time, equipped and ready to do the job. Our staff is at your disposal the same day when you contact us and can arrive within two hours of your call to do the required work. We have experience in collection and disposal of junk from offices, shops, malls, large and small market places, restaurants and many more.
Building Rubbish Removal
Rubbish removal after building, renovation and construction works is part of our services as well. Snappy can offer you reliable builders clearance in Dagenham RM9. You can call us on 0208 0999 767 or 07397 009 099 for a free no obligation quote. After we check the weight and size of the junk to be removed we will inform you about the price.
Cheap Residential Waste Collection
Our rubbish collection registration number is CBDU155119. We recycle up to 95% of the garbage so we are proud to be an environmentally safe working contractor. You can rely on us to load, transport and dispose of your garbage in a safe and proper way. Your house, block flat and other residential buildings will be cleared of unwanted items and junk using specialised vehicles if you choose our company.
Local information about Dagenham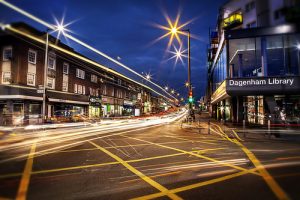 Dagenham is a suburban town in east London, in the London Borough of Barking and Dagenham, 12 miles from London. From the Medieval period until the 20th century Dagenham village did not alter its appearance much. The main street, Crown Street, ran east from the church and crossed the valley of the Wantz stream. After crossing the stream the road turned sharply south and became Bull Lane, ending in the Bull Public House. Today only the parish church of St Peter and St Paul, the Cross Keys public house and the Vicarage remain of the old village since the building of the vast Becontree estate by the London County Council in the early 1920s and the relocation of the Ford Motor Company from Manchester to Dagenham in 1931. A 500 acre riverside site was developed to become Europe's largest car plant. Valence House Museum is the only surviving of the 5 manor houses of Dagenham. It is sited in parkland and is partially surrounded by a moat. It now houses the borough's local history museum and art gallery. The Mall on Dagengham Heathway is the town's indoor shopping centre, and Eastbrookend Country Park is a reclaimed area of 197 acres of countryside in the Dagenham Corridor.